We had an awesome gala this year! We would like to thank everyone who attended or helped us with the 6th Annual Dennis Bligen Kidney Foundation Benefit Gala.
Ed Shin, photographer and journalist (Village Connection Magazine), took photos. Click below to view gala photos.
The DBKF would like to extend a huge THANK YOU to Chaminade High School who was a major sponsor
of the DBKF Gala!
Dennis Bligen was able to receive a kidney via a kidney swap chain, all thanks to a donation from his friend Jill Christensen. The story can be found here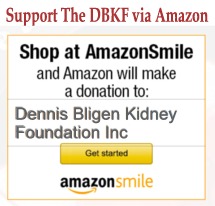 Minorities and Kidney Disease
Black Americans, Hispanics, Asians, Pacific Islanders, American Indians and Alaska Natives are at the highest risk for kidney disease and kidney failure.

In fact, Black Americans are 3 times more likely and Hispanics are 1½ times more likely to have kidney failure compared to White Americans. Researchers do not fully understand why minorities are at a higher risk for kidney disease.

However, minorities have much higher rates of high blood pressure, diabetes, obesity and heart disease, all of which increase the risk for kidney disease. Access to healthcare may also play a role.
What Has NKF Been
Up To Lately?
---
Become A Kidney Donor
There is a constant shortage of donor organs in metropolitan areas such as New York City. Give the gift of life by becoming an organ donor. In kidney transplants, the donors' remaining kidney strengthens to compensate for the kidney that he or she donated.
Read more.....
No child should suffer from the debilitating effects of kidney disease. Read Sean's story, and learn how his life has been changed since his initial diagnosis. Stand with Sean, and kids like him, and make a gift today.
5 Signs Your Kidneys or Heart Could be in Trouble
Diabetes and high blood pressure can cause damage to both the heart and kidneys. Many people don't experience severe symptoms until their kidney or heart disease is quite advanced, but

there are some warning signs. Could you be ignoring them?
Depression & Chronic Illness: 5 Ways to Cope
Whether you've been newly diagnosed with kidney disease, or have been living with it for a long time, you've likely experienced some "lows" in your mood. Depression is common in those with chronic illnesses, and kidney disease is no exception. Get 5 tips to cope with how you're feeling.
Stressed?
10 Ways to Protect Your Kidneys
Everyone experiences stress. When channeled properly, it can serve as a positive motivator, however, too much or constant stress can take its toll on your health. Protect your kidneys and maintain your overall health with these 10 tips!
---
Add a kidney-friendly quiche to your recipe rotation. This colorful addition to your table makes for a versatile meal. Serve as a savory brunch entree or a delicious "breakfast for dinner" that the whole family can enjoy.
A Little Number 1 Can
Save Your 2 Kidneys
We're launching the EverybodyPees campaign so that Americans will think about their kidneys every time they use the bathroom. Learn more about the new campaign and check out these singing kidneys! We promise – you've never seen kidneys rock out like this before. Share the video with everyone you care about to help spread the word!

Recently Diagnosed
A diagnosis of kidney disease can be scary. Here is what to expect next so you can make educated decisions about your health. Learn more here.
Diabetes
Learn more
High blood pressure and kidney disease
Diabetes and kidney disease
Diet and kidney disease
Exercise and kidney disease
Important facts about kidney disease
FIND A KEEP HEALTHY KIDNEY SCREENING NEAR YOU
NKF's community-based initiative to educate about the kidneys, risk factors for kidney disease, and steps to take to keep kidneys healthy.
More Info >>
5 FOODS TO LIMIT OR AVOID IF YOU'RE ON DIALYSIS
Because dialysis cannot replace the workload of kidneys and waste can build up, it's important to watch what you eat.
More Info >>
We walk for kidney patients, families, and people at risk. Because at the National Kidney Foundation, people are our mission. Our first job is to find ways to improve and extend as many lives as possible, and your participation means we can continue being a lifeline for all people affected by kidney disease.
C'mon, join other kidney donors, recipients, and their families at a Walk near you to celebrate the gift of life and each other.
It's easy to make a difference! Sign up now to learn how to get involved with legislation relating to kidney disease, transplantation and organ donation.
WARNER BROTHERS' GOING IN STYLE HELPS PROMOTE LIVING DONATION
Often the hardest part for someone with kidney failure is asking a loved one or friend to become a donor. To help promote the conversation about living donation, we're excited to partner with Warner Brothers and Going in Style director Zach Braff on a PSA promoting awareness of living kidney donation.
Learn more
HOW YOUR KIDNEYS WORK
Why Are the Kidneys So Important?
Most people know that a major function of the kidneys is to remove waste products and excess fluid from the body. These waste products and excess fluid are removed through the urine. The production of urine involves highly complex steps of excretion and re-absorption. This process is necessary to maintain a stable balance of body chemicals.
The critical regulation of the body's salt, potassium and acid content is performed by the kidneys. The kidneys also produce hormones that affect the function of other organs. For example, a hormone produced by the kidneys stimulates red blood cell production. Other hormones produced by the kidneys help regulate blood pressure and control calcium metabolism.
The kidneys are powerful chemical factories that perform the following functions:
remove waste products from the body
remove drugs from the body
balance the body's fluids
release hormones that regulate blood pressure
produce an active form of vitamin D that promotes strong, healthy bones
control the production of red blood cells
Early detection and treatment of chronic kidney disease are the keys to keeping kidney disease from progressing to kidney failure. Some simple tests can be done to detect early kidney disease. They are:
A test for protein in the urine.

Albumin to Creatinine Ratio (ACR), estimates the amount of a albumin that is in your urine. An excess amount of protein in your urine may mean your kidney's filtering units have been damaged by disease. One positive result could be due to fever or heavy exercise, so your doctor will want to confirm your test over several weeks.
A test for blood creatinine. Your doctor should use your results, along with your age, race, gender and other factors, to calculate your glomerular filtration rate (GFR). Your GFR tells how much kidney function you have. To access the GFR calculator,

click here.
It is especially important that people who have an increased risk for chronic kidney disease have these tests. You may have an increased risk for kidney disease if you:
are older
have diabetes
have high blood pressure
have a family member who has chronic kidney disease
are an African American, Hispanic American, Asians and Pacific Islander or American Indian.
If you are in one of these groups or think you may have an increased risk for kidney disease, ask your doctor about getting tested.

There is a constant shortage of donor organs in metropolitan areas such as New York City. Give the gift of life by becoming an organ donor.

In kidney transplants, the donors' remaining kidney strengthens to compensate for the kidney that he or she donated. Kidneys from a living donor have a better long-term survival than kidneys from a deceased donor.

Also, deceased kidney donation cannot meet the needs of all patients in this country who need a kidney transplant. The waiting time for a deceased kidney donation may be two to five years. Kidney donations from living donors have always been a better option. More recently, kidneys donated from unrelated living donors (such as a spouse or a friend) have been as successful as those from close relatives.



LEARN HOW TO BE A PHOSPHORUS DETECTIVE
Part of a kidney-healthy diet is tracking or avoiding minerals like phosphorous which can be hidden in foods.
More Info >>
PLEASE HELP MY SISTER
She desperately
needs a Kidney.
Her blood type is O
My name is Carla Wimberly. I am a 43 year old single mother of two sons named Christian and Aaron, ages 16 and 3. Today I humbly ask for your help.
Read more...
African Americans have suffered the most on the waiting list for a kidney donor. We need to have donors of the same background as the recipients. This will help the community by helping people who are on dialysis.

The DBKF is announcing a new initiative which will help a recipient find a living donor. The first recipient is Shirley Farquharson
Here's some information about Shirley.
Read more...
Help Bring Urgency to Kidney Health
This simple action will help give kidneys the attention they deserve on World Kidney Day: Sign up for our Thunderclap campaign and donate a tweet or a Facebook post. Let your voice be heard!
Start a Conversation About Living Donation
Did you know that African Americans are 3 times more likely to experience kidney failure? Because kidney disease often has no symptoms, it can go unnoticed until it is very advanced. But there's good news. Taking steps to live a healthy lifestyle can go a long way towards reducing risk, and early detection and treatment can slow or prevent the progression of kidney disease. Read more and get started...
KNOW THE
SYMPTOMS OF CKD
According to the NationalKidney Center.org, Chronic kidney disease often goes undiagnosed and progresses because the signs and symptoms are so subtle. However, there are 10 key kidney disease symptoms.
Changes in Urination

Swelling

Skin Rash/Itching

Leg, Back, or Side Pain
Metallic Taste in Mouth
Nausea and Vomiting
Feeling Cold
Shortness of Breath
Dizziness and Trouble Concentrating
Fatigue
If you experience any of these symptoms, however subtle, go to your health care provider and ask for a kidney screening.
The National Kidney Foundation's Kidney Early Evaluation Program (KEEP) offers free screenings in your area for those at risk.

Go to www.Kidney.org to find out more.
What Has NKF Been Up To Lately?